Sightseeing in 8, Hakone village way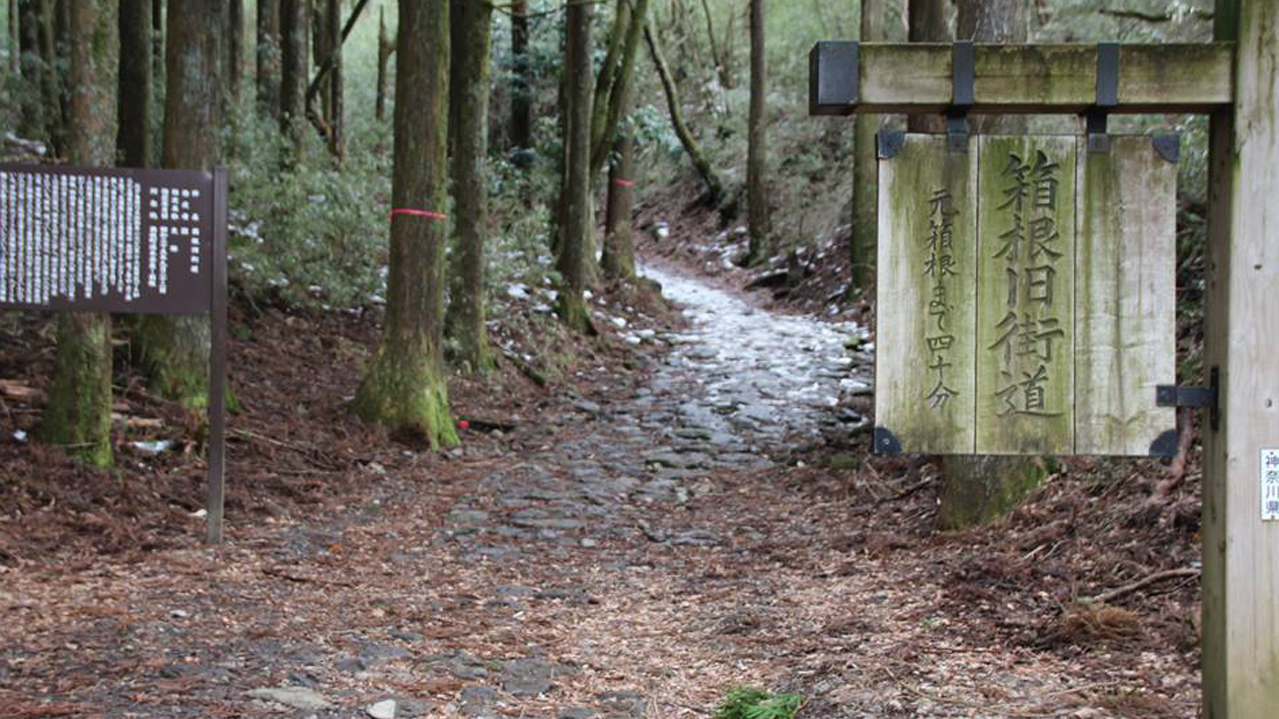 The mountains of Hakone place hard to pass (ken) of the world
Do you not walk "8, Hakone village" although being a pleasure?
"8, Hakone village" after Hakone Toge on "the east slope" and the Mishima side of Odawara, Hakone side
"Nishisaka" Natural scenery and Suginami tree ・ that we are divided into this, and each has characteristic
Historic spots of stone pavements are left.
Trivia of 8, Hakone village
Oh, slope thing talk ... of what kind of slope slope - 8, Hakone village where slope does not come to
 There are many slopes in old way of 8, Hakone village, and unique name is added to each. For example, as for the thing based on tradition including "woman let fall down slope" of the east slope and thing "broken stone Hill" to reach as Goro Soga of Soga brothers who is one of nichihonsandaiuchinyu, and are famous tried out Oishi while is founded much which just exposed state of rapid slope including "slope of monkey sliding" to name.
 Similarly, call another name "kowameshi Hill", and, as for "lower Nagasaka" of Nishisaka, it is having fun that episode of the past walks slope of the unique name studded with from steep slope as "we cannot climb when we do not eat kowameshi" (steamed rice) or "rice which we carried on our back is said to be sweat and heat dekowameshininatta" and "(we rolled mortar) which cow rolled" thing in "mortar Korobizaka" said to have been accompanied of the name.
Harajuku, Oda
Charm of 8, Hakone village
 A certain Odawara leaves Edo to 20 20 villages from the Edo era and is the first castle town.
Four subsidiary inn for daimyo's attendantses and tavern counted 95, and four Honjin boasted of one of the best bustle in the 53rd post town probably because place hard to pass of the world, the mountains of Hakone had.
After modern times, we are known for having become stage of various literary works.
There is much highlight including Odawara-jo Castle, too.

●Odawara-jo Castle (Odawara Castle Site Park)
  Yamashiro whom Omori built in the Muromachi era was forerunner and developed as the center base of Kanto rule after it became castle of war-torn country daimyo Odawara Hojo afterwards.
 The castle tower which revived in 1960 becomes 3-layer compound ceremony on the fourth floor, and Boso Peninsula and Izu Peninsula to expect from scenic dome on the fourth floor are superb views.




Hakone accommodation
Charm of 8, Hakone village
 We let by for each 50 houses emigrate to the shore of Lake Ashino from Odawara, both accommodations of Mishima and are post town installed in newly to relax hakokontogeetsu eno labor by request of western regions daimyo in 1618 (Genna 4).
Although scale of post town was not so big, Honjin counted six cases, and it was proud of the most in Tokaido.
With nature that paths of Hakone that tormented traveler as difficult place of way position are beautiful now, it is got close to people by Hakone Ekiden.

●Hakone-sekisho Checkpoint
  Because the purpose prevents rebellion of daimyos. Opening of a gate from bell telling the hour of dawn (6:00 a.m.) in six in the evening (6:00 p.m.), other than that, except official business
 In the case of no urgency, we were able to go.

●Amazake teahouse
  Amazake teahouse where jeering Kita stopped at. Taste of amazake to make only with ricemalt is the best. We always show bustle.


Mishima accommodation
Charm of 8, Hakone village
 Post town-cho having Hakone Toge to the east as temple town of Mishima big shrine. It is said that traveler did "banquet in celebration of the first game in the forest" across Hakone safely when we arrive at accommodation. In addition, Mishima got Shimoda Highway from here when originally there was Izunokuni prefecture. Development is going ahead through the area where post town was now as downtown.
 In addition, known Mishima is many places of town in agrarian soldier (noe) knob of "snow and noe of Fuji", and spring of Fuji is place that wants to take a walk through flow, waterside relaxedly.

●Mishima big shrine
  Because it faced Tokaido and was in the starting point of Shimoda Highway, Mishima Daimyojin was worshiped as Ichinomiya of Izu widely from the old days. We are missing at the time of foundation, but enshrine daisan*mei and jidaishumei,
 Main shrine is Toshogu Shrine style of total zelkova. Anecdote concerning Yoritomo and historic material often result in Yoritomo Minamoto praying for Genji revival, and having risen in arms for celebrity, too.

●Mishima skywalk
  400m in total length, large suspension bridge of 70.6m in height. We are proud of the best length in Japan for suspension bridge for exclusive use of walker.

●Mountains Castle Site Park
  In mountains castle, Hojo who put Honjo in Odawara constructed a castle in the terminal Eiroku era year (the 1560s) for the age of civil strife. On March 29, 1590 (Tensho 18), we receive all-out attack of 40,000 Hideyoshi Toyotomi forces,
 It is said that we fell in only half day. Yamashiro only for soil not to just use stone for is very rare nationwide, and remains of an ancient structure 400 years ago are appointed on historic spot of country

To want to know in detail is this place
Sightseeing in 8, Hakone village way promotion meeting site 
| | |
| --- | --- |
| Sponsorship  | Sightseeing in 8, Hakone village way promotion meeting |
| The secretariat | Mishima-shi business and industry sightseeing section sightseeing policy room |
| TEL | 053-983-2656 |
| HP | https://www.hakone8ri.com/ |