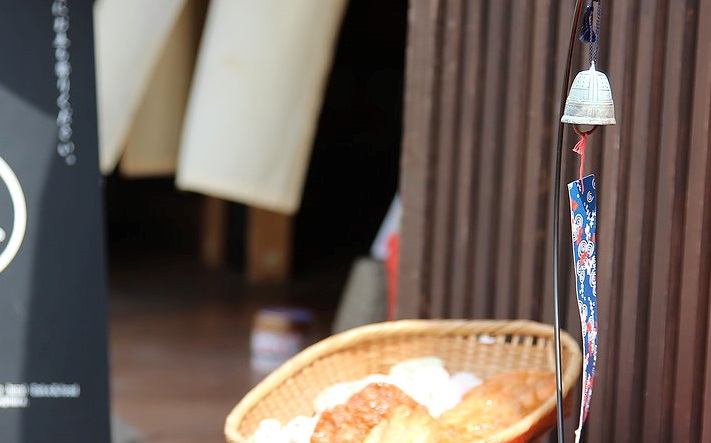 The head office of kamaboko sets up the eaves and can take a walk through wall without wall freely. It has been fish market once and is one just what 30 store rests including dried fish shop, dried bonito shop, restaurant, restaurant, Japanese confectionery shop link as well as kamaboko shop.
[POINT]
   ・As we reproduced taste of the Meiji period from Edo that did well most.
   ・We buy Satsumaage, and eating the way is recommended.
   ・We can experience
lantern production experiences
in occupation interchanging hall.
Work kamaboko of 12 Odawara kamaboko
Please enjoy characteristic to stop by for each shop
Because taste or form, texture of kamaboko shop which there are 12 in Odawara have you know characteristic of each shop each more, we experience work pot of Odawara kamaboko.
[the date and time] 3 first Saturday and Sunday
    ※November, 2018 is Sundays and holidays on Saturday and Sunday a week    
[place] Harajuku, Oda nariwai koryukan (3-6-23, Honcho)
[object] 20 every day first arrival
[contents] Work kamaboko of six every day
      <Saturday> Sugise store, soil rock store, scale good luck,
           Yamaichi Kamaboko restaurant, side and Kamaboko restaurant, bell Hiroshi kamaboko
      In <Sunday> bell pine Kamaboko restaurant, mountain Kamaboko restaurant, kago淸honten,
           Ise and store, cedar and store, circle u Tashiro
[expense] 500 yen
Eat the way; gourmet mappu
We introduce store
12 Odawara kamaboko recommends; ate the way, and published menu; "eat the way, and distribute gourmet mappu".
You wait, and please use as attendant of walk.
[place] Harajuku, Oda nariwai koryukan
Canned Odawara Kamaboko badge service privilege
Popular name "pot gacha"
Noisy cricket which can badge that name of 12 Odawara kamaboko and logo of Odawara Kamaboko cooperative were designed hits, popular name "pot gacha" are installed in Harajuku, Oda nariwai koryukan and Odawara kamaboko 12.
We can undergo privilege of each each shop when we show in shop of can badge which hit from Saturday, November 3.

[place] Harajuku, Oda nariwai koryukan, Odawara Kamaboko cooperative participation store
[expense] Once 100 yen
● Tourist attraction information
Address
〒250-0012 3-7-17, Honcho, Odawara-shi, Kanagawa
Homepage
Kamaboko street activation meeting
http://www.odawarakamabokodori.com/
※I would like confirmation of detailed information before visit by all means in formal HP.
Access
Train: Tokaido Line, Tokaido Shinkansen, Odakyu Line, "Odawara Station" of Daiyuzan Line
Foot: It is about 15 minutes from Odawara Station to the sea direction
Car :It is about five minutes from Seisho Bypass descent "Odawara"
   It is about ten minutes from Odawara-Atsugi Expressway "small Tabaranishi"
   It is about 15 minutes from the Odawara-Atsugi Expressway "Odawara east"
   It is about 30 minutes from Tomei Expressway "Oi Matsuda"
Bus: Ride for "Kozu Station", "bluish-skinned fish town" get off Odawara Station
   "Whole line for the Hakone area" ride, "Saiwaicho" get off Odawara Station