Stone wall Yamaichi night castle historical park
Ruins of castle which Hideyoshi Toyotomi assumed headquarters of Odawara battle. Based on tradition that constructed a castle, this name ran out as having let castle appear during single night.
[POINT]
    ・Stone wall Yamashiro was chosen by "Japan's Top 100 Castles which association of Japanese castle chose sequel to".
    ・Castle of total stone wall made first in Kanto. Please enjoy stone wall!
    ・We can see the Tokyo Skytree on Gulf of Odawara-jo Castle bottom and Sagami, fine day, too.
    ・We can enjoy local vegetables and sweets overnight in
castle armor Takarazuka Operetta Troupe farm
.
● Tourist attraction information
| | |
| --- | --- |
| Address | 〒250-0021 Hayakawa, Odawara-shi, Kanagawa character plum ka hollow |
| Telephone | Odawara-jo Castle synthesis Administration Office telephone 0465-23-1373 |
| Homepage | Stone wall Yamaichi night castle HP |
| Business hours | ― |
| Regular holiday | ― |
| Instructions | There is step in park and is not available with wheelchair. |
Foot
It is approximately 50 minutes on foot from JR Tokaido Main Line "Hayakawa Station"
It is approximately 60 minutes on foot from Hakone Tozan Railway "Iriuda (iriuda) station"

Taxi
・It is approximately 15 minutes [from Odawara Station] 
・[from Hakone-Itabashi Station] approximately ten minutes (there is taxi company for ※ adjacency)
・[from Hayakawa Station] approximately ten minutes (there is no ※ taxi permanent residence)

Bus
※Bus is not running.
 Sightseeing excursion bus goes only on Saturday and Sunday of tourist season.  Sightseeing excursion bus HP
Car
・[from the Route 1 Yokohama area]
  We turn left at Itabashi intersection
  We turn left at Hakone turnpike entrance intersection
・[from the Route 135 Atami area]
   We turn left at Hayakawa intersection (※ attention! Impossible of right turn from the Odawara area)
・[from the Route 1 Hakone area]
   We turn right at the intersection in front of the earth Museum (as for ※ large car from this)
Parking lot
Parking number: 58 
Parking rate: Free of charge 
Restroom: Existence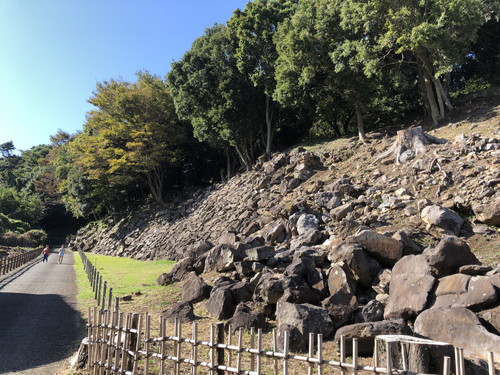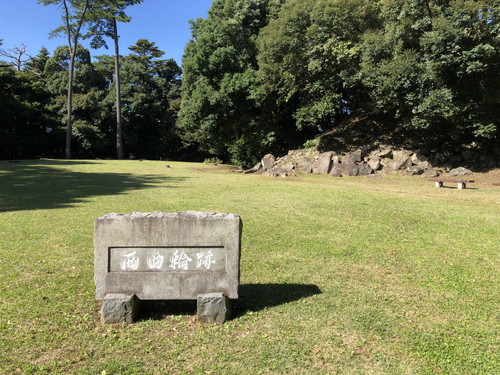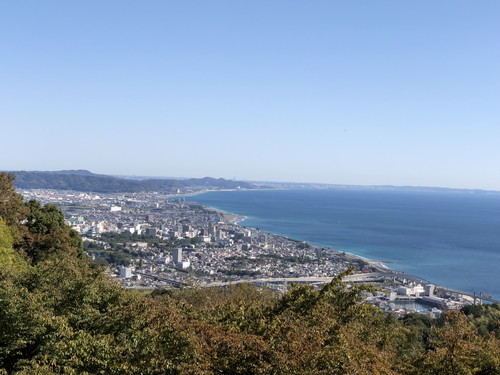 About the park
  Both Hideyoshi and Ieyasu overlooked Odawara-jo Castle from here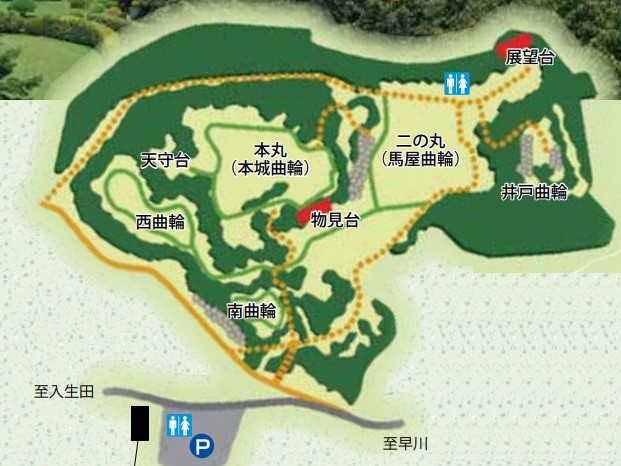 Whole map
Whole area: 1.2 times of approximately 5.8ha (58,000 square meters) <approximately 17,545 tsubos> Tokyo Dome
Distance in a straight line to Odawara-jo Castle: Approximately 3km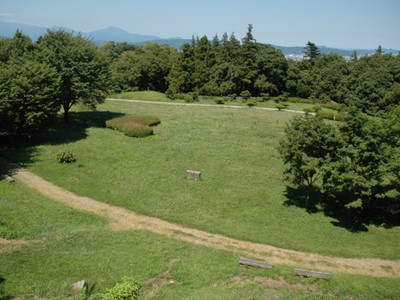 Main enclosure (Honjo gay quarters [honjokuruwa])
We can see the Tokyo Skytree from this complete set reading-desk let alone Odawara-jo Castle bottom, Gulf of Sagami on fine day, too.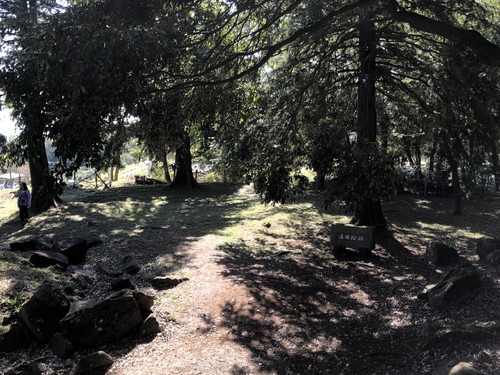 The outworks of a castle (stable gay quarters [horse out of order])
Gay quarters that are the largest along with main enclosure. We consist of parts which stretched in rectangle to center and the north of gay quarters.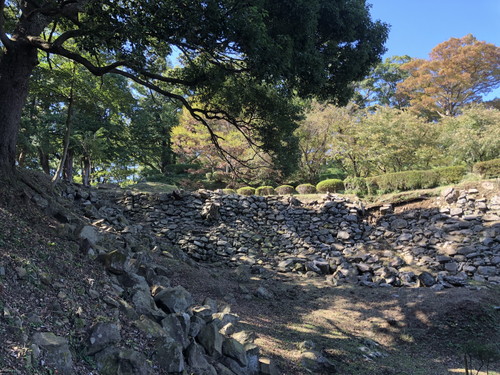 Makeup well of well gay quarters [idokuruwa], Yodo
We piled up stone wall on the neighborhood to block up place to become dale, and to stop and made well at the bottom. Stone wall left in the neighborhood best remains overnight in castle and can know stone wall construction technology at the time.

About origin of name
"Mt. Ishigaki" "single night castle"
▼Origin of Mt. Ishigaki
 Mt. Ishigaki was originally called "archery on horseback mountain", but (1590) Hideyoshi Toyotomi surrounds Odawara Hojo by big army of land and water 150,000 in 1590. Because we built castle of total stone wall as Honjin, it came to be called "Mt. Ishigaki".
 Even if stone masonry passes through time for four hundred years by surface heaping up (nozurazumi) by Ano a large number of people (anousyu) [engineer group of masons] of Oomi (Shiga) first in castle of made total stone wall, color leaves feature at the time densely in Kanto.

▼Origin of single night castle
 When Hideyoshi constructed a castle, it made framework of wall and oar (tower) in forest at the mountaintop that this castle was called castle or father of the Imperial adviser single night castle at stone wall Yamaichi night in the life and we put blank paper and cut down neighboring trees like white wall during pretense, single night, and officers in Odawara-jo Castle that saw it were astonished, and, however, actually, a total of 40,000 were mobilized, and drop of the morale spent approximately 80 days from April through June in 1590.


About the history
The famous military commander size concentration! War-torn country all-stars
 Hideyoshi Toyotomi appointed to kampaku in (1585) in 1585 and we performed Kyushu attack Shikoku attack in (1587) for 15 years in the year after next in the year and approximately subjugated Spain, and it was in zan ruha Kanto, Tohoku. Therefore, at the end of the same year, war by private hands ban "that we conquer as kampaku if there are scrambles of territory between daimyos afterward" announces "Kanto, okuryokoku*mujirei" (kantou, okuryogokusobujirei).
 We invited the Emperor Goyozei to "*gakudai" (jurakudai) of residence of Kyoto and castle in (1588) April for 16 years in the next year and let we gave daimyos of the whole country an order for the attendance, and the loyalty promise. Ujimasa Hojo, he direct father and son do not attend then, and the spearhead will turn to Hojo who does not show will of allegiance. Kuninori Inomata (inomatakuninori) who acted as Numata castle warden of Ueno country [kouzukenokuni] (Gunma) in (1589) October for 17 years, the following day recaptures excellent walnut castle (nagurumijo) to be next to while it looks like it. Hideyoshi declares war in this as *mujireiihan on November 24.
 220,000 Hideyoshi group to surround, Odawara Hojo group 54,000 to meet. Although we complete contour (*kamae) [we get so toad] which contained castle and castle town commencing with repairing of Odawara-jo Castle and the branch castle and invite and defeat the Hojo side, in the Hojo group, the morale largely decreases by throwing into confusion including Kizuki castle in single night of betrayal work and stone wall mountain of Hideyoshi group. He direct ga surrender surrendered to fight that began on (1590) April 3 in 1590 on July 5, the same year, and Hojo was ruined after war-torn country daimyo here.


Recommendation walking course
Of father of the Imperial adviser single night Castle and long Xingshan, historic spot rise
We are chosen by "500 selections of beautiful ways which we want to walk of Japan"
If "it is beautiful approved way 500 course of Japan" that "rose, and was announced by promotion meeting that the choice is suggested by association of general Japan walking and gets the Ministry of Land, Infrastructure, Transport and Tourism, NHK, local newspaper publisher alliance society of the whole country, support of Kyodo News Enterprise, and beautiful Japan wants to walk"

[course summary]

・Hakone Tozan Railway "Iriuda Station" - JR Tokaido Main Line "Hayakawa Station"
・Walk distance: 7.5km walk time: Two hours ten minutes pitch difference: 238.3m

 We walk pavement way maintained well generally and go round from historic spots early in Edo from last part of war-torn country in "chokyosan*taji". There are sign of the animals and plants and sign of eight military commanders who did three groups by Odawara attack on stone wall mountain along the ways from "star, earth Museum of life" to "stone wall Yamaichi night castle", and we are keenly aware of the history, and view is in particular course that meeting with nature and creature can enjoy fantastically, too. "We hang down of long Xingshan, and cherry tree" is famous place that we want to watch once.

Iriuda Station → Six minutes →
chokyosan*taji → Ten minutes →
Kotobuki tower of strong cattle chief bonze of a temple → Two minutes →
Of long Xingshan hang down; cherry tree → 12 minutes →
Star, earth Museum of life → Five minutes →
Father of the Imperial adviser Bridge  → 38 minutes →
Early stone from a riverbed distance between places group → 13 minutes → 
Stone wall Yamaichi night castle → 34 minutes →
Kaizo-ji Temple → Ten minutes → Hayakawa Station