You must participate in business of tourist association, too
It is metropolis of Kanagawa west area that develops as "castle town" of rear Hojo for the age of civil strife, and Odawara prospers as "post town" outstanding of Tokaido in the Edo era, and has been loved as "villa, place of residence" of industry and government person and cultured people for the Meiji period. Mountain which is full of green, clean river, the magnificent sea, fertile plains and warm climate. Long history and tradition, culture that were built by many ancient people.

Various approaches are still pushed forward for better town planning.
Us Tourism Association developed business to be connected for activation of Odawara including << Odawara lantern summer festival >> << Ume Odawara Festival >> since we started in 1981 (Showa 56) << Odawara Hojo 5s Festival >> and continued being active when we wanted to tell more various places about charm of Odawara.

And, in April, 2014, we were reborn as general corporate judicial person as tourist association appropriate for the new times.
Such an activity is managed by support of members and cooperation and, for further development of future Odawara, we are alone and borrow much power and pray when we want to heap up Odawara with.
We look forward to your enrollment.

General Odawara-shi tourist association's chairperson Takeshi Ishida
Business of tourist association
We try for promotion of tourist industry of Odawara-shi and healthy development by performing sightseeing advertising and tourist invitation and send tourist attractions in the city nationwide in addition.
1. Sightseeing information dispatch that utilized the Internet, Facebook
2. Conduct of sightseeing campaign
3. Coverage cooperation and attracting tourist advertising such as TV radio, newspaper, magazine
4. Making and sale of sightseeing PR goods
5. Inspection such as events with sightseeing monitor
6. Conduct of various events and support
7. Management administration of Odawara Station tourist information center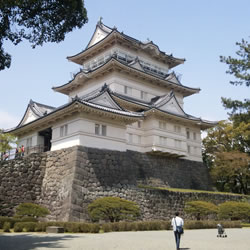 Development of active event
We will carry out annual sightseeing, culture event positively. In addition, we plan new special event to plan introduction of more sightseeing attracting tourist and stay and create and plan development of substantial event of contents through the year.
Odawara Sakura Festival (April)
Odawara Hojo 5s Festival (May)
Odawara lantern summer festival (July)
Odawara Sakawa River fireworks display (August)
Village "Fuma Festival" of ninja (August)
Single night castle festival (October)
Odawara-jo Castle Chrysanthemum flower exhibition (November)
Ume Odawara Festival (the beginning of February?in the beginning of March)
Horseback archery (February)
Four seasons sightseeing photograph contest (a year) of Odawara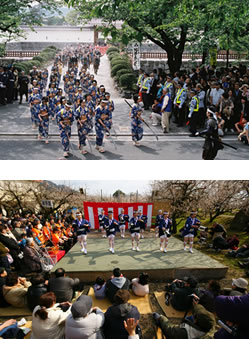 7 biggest privilege for member
1. Tourist, travel agency, preferential introduction for inquiry from media.

  ・For various inquiries to station tourist information center and our association, we introduce with precedence.

2. We introduce member on homepage of our association.

  ・Homepage of our association has 500,000 a year access. It is useful for instruction to company homepage.
  ・Person who had you fill in membership application form with HP address places member information in "member introduction" page.
  ・The number of persons comes to more than 5 members for our association homepage by banner publication.
  ・The number of persons comes to more than 50 members for Odawara-shi homepage by banner publication.

3. Window setting and offer of member office brochure.

  ・Odawara Station tourist information center, trade rag which tourists gather for
We can put. But it is more than 2 members and is limited to one kind of 1 member.

4. To company advertisement thing of "member of Odawara-shi tourist association" can display.

  ・It turns out that cooperate with tourist industry, and lead to image enhancement, reliability from tourist
   We improve.

5. We provide opportunity of business matching, interchange.

  ・As for the congratulations reception (January), there is encounter with people of various types of job in exchange meeting (May), the New Year at general meeting, information
   We can change.

6. We provide opportunity to participate in business that our association performs (pay).

  ・Only for member in Odawara-shi to Odawara lantern summer festival can open a store. But after enrolling
   From the second year is opened a store.

7. We provide opportunity to participate in business that our association performs (pay).

  ・Sightseeing in Odawara calendar one 800 yen → We provide for 500 yen.
  ・In "member introduction" page, we place member information.




Application for enrollment, please call.

TEL 0465-22-5002
◆ Contact
General Odawara-shi tourist association
〒250-0014 1-21, Jonai, Odawara-shi (Odawara business and industry hall)
TEL 0465-22-5002